FOR IMMEDIATE RELEASE
Auction Ease Release
Auction Ease Ebay Offline Auction Editing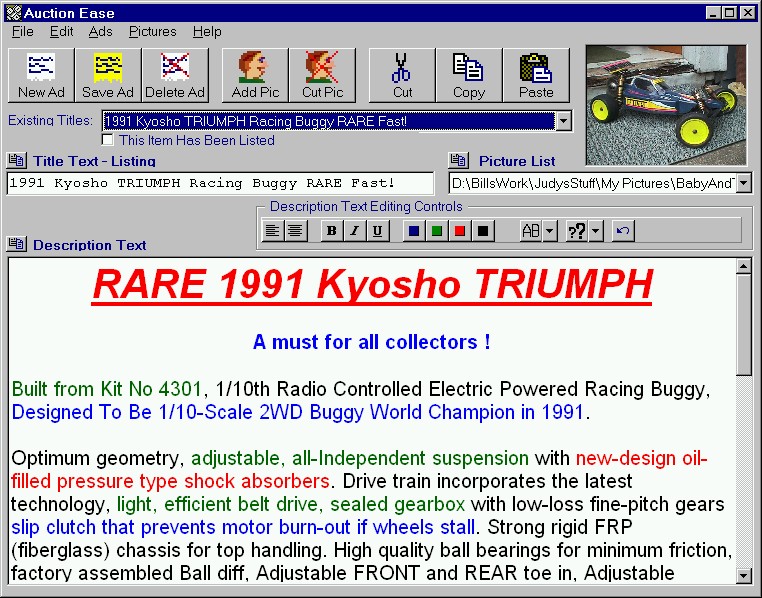 9/21/01 -- Auction Ease Ebay Offline Auction Editing has arrived -- This date shall live on in the halls of Internet Auction History as the day Mr. Harper released his offline auction editing tool, Auction Ease. Auction Ease allows the title, description and pictures to be gathered together and stored locally at the operators convenience.
Create the ad listing with description and associate the location of the pictures. This information is stored in the Auction Ease program ready for instant retrieval at any time thus eliminating the extremely frustrating process of trying to fill in a web page online to create an auction listing. Rather, when listing an item, breeze through the process by simply transferring already completed work to the web page form.
Auction Ease is only available direct from the manufacturer, Mr. Bill J. Harper. Contact of Mr. Harper to acquire Auction Ease is achieved at the speed of light via electronic mail. The software can be acquired within just a few minutes online. This makes the purchase a bit ironic, purchasing a tool to do things offline, online.
For More Information Contact:

Bill J. Harper G.D.C.
Internet: billha (at) nwlink (dot) com (symbols spelled out to avoid bot spam)