A little paint and some air!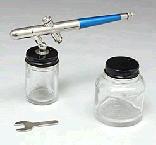 Mr. Harper has enjoyed the artistic freedom of the airbrush to custom paint his R/C car bodies.
The links below are a sampling of the air brush work of Mr. Harper with guest appearances by works of Mrs. Harper who shares Mr. Harper's enthusiasm for R/C cars and air brush painting.