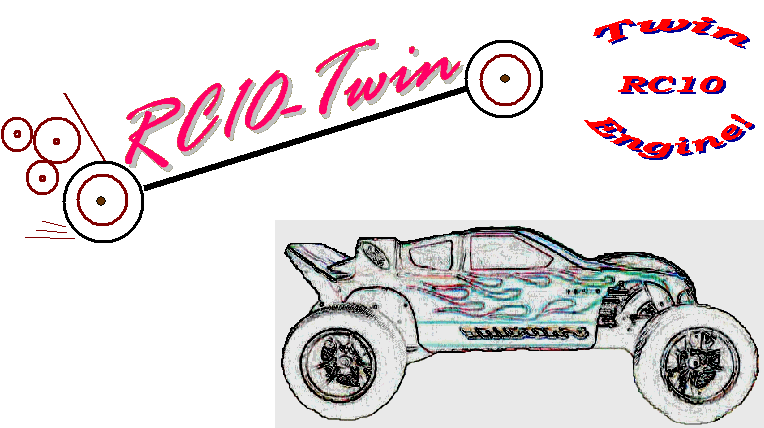 Dynamite Value of TWIN POWER
| | |
| --- | --- |
| | Explosive hole shot power! |
| | Trenching traction! |
| | Blistering top speeds! |
| | Incredible Braking! |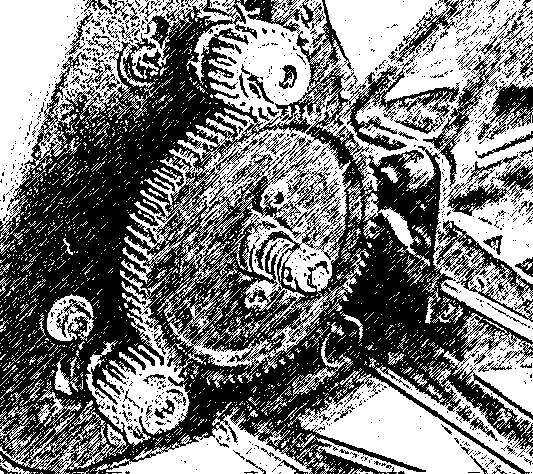 Twin Pinions, What's connected?
This is where we separate the men from the boys. The RC10-Twin is for serious r/c enthusiasts. Each RC10-Twin is custom built by hand to demanding tolerances. Every attention is paid to every detail. The suspension is tuned to provide the best available handling for the extra weight of an additional motor and control system. The awesome power of having two motors applying power to a single transaxle speaks for itself.
The Birth of an RC10-Twin!
The RC10-Twin starts out as a Team Associated RC10T3 Factory Team Built. The RC10-Twin factory technicians skillfully convert the stadium truck to a Twin and tune the suspension. Additional information in the form of a "Twin" guide book is added to the extensive Team Associated documentation. The package is reassembled with the appropriate additional "RC10-Twin" logos ready for ton's of fun at blistering speeds.

The early days of the RC10-Twin were filled with excitement and lots of questions, here are just a few;.
| | |
| --- | --- |
| | How will two motors work? |
| | Will they cook the speed control? |
| | How will a RC10-Twin handle? |
So many questions, and, as the development progressed, the answers were every bit as interesting as the questions.
RC10-Twin Research
The RC10-Twin research facility discovered several important factors regarding development of a twin motor stadium race truck.
The first was how to take advantage of the twin motors. It was quickly discovered that all speed controls have a limiting factor, that is, they only allow a maximum amount of power to transmit through the speed control. This is designed for the consumption by a single motor and is way below the performance potential of twin motors.
Secondly the new speed controls designed for twin motors are also designed to use two batteries. This is ok if you choose to do so but two full sized 6 or 7 cell batteries is a hefty load for a stadium truck designed for one battery. More on batteries later. It is sufficient to say that for the best performance with regards to handling a single battery is desired.
Motors, the pair (able) story!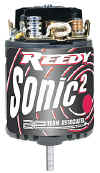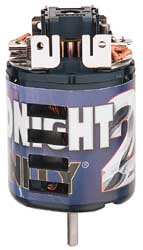 The topic of the kind of motors used in a RC10-Twin is a very interesting topic. The combination of two motors opens up some very intriguing options. Obviously a matched pair of motors, two that have the exact same specifications and performance is the default choice of many.
The probability of other options is where the game gets interesting. Lets consider putting a 27 turn stock screamer with a hot 12 turn double. The 27 turn uses less battery but has a real high torque range. The 12 turn double has a high range of RPM. So we get the torque and rpm's.
If we want to squeeze the last top RPM of speed, we can use two 12 turn motors maybe a single and double wind. I think this is where the most excitement is with a RC10-Twin.
Pinion Gears, Spur Gears, and More Runtime Fun!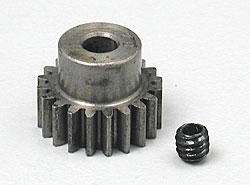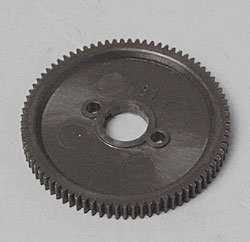 When you have the luxury of twin motors gearing becomes a whole new subject. We have all known that a small change in gearing can make a big difference in performance. But now with the RC10-Twin Dual Motor configuration we have a lot more options.
Changing the spur gear is the same but now we have the possibility of using different pinions on each motor. We can gear down the high RPM motor and gear up the motor that is a twisting torque monster. There are way too many configurations to discuss here. I think you get the idea!
Battery Options: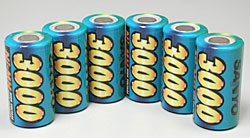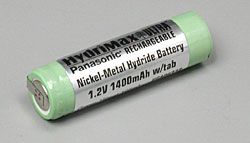 Batteries provide a real source of excitement when you begin toying with a RC10-Twin. The new 1700 mah AA size batteries can provide a real strong alternative for a battery source. In the past the hobby has most always used Sub-C size batteries. Now the increased life of the AA class battery opens up some really cool possibilities.
We can build a 14 cell battery (two pairs of seven each, seven in series circuit and the two sets in parallel circuit). The doubling of the number of cells will create a monster 3400 mah battery that is extremely favorable in the weight and size department. It can also be configured to fit in the RC10-Twin's battery holder. Now we have the best of all worlds, size, power, and reduced weight. Handling does not suffer and the RC10-Twin really screams! (for a long time too!)
Here is a table to show indexes of power vs. size. You can use this to build your monster batteries.
Size
Typical
Voltage
Weight
Diam.
Height
Length
Width
Pwr ndx
Pwr by Size
Total
Capacity *
(nom.)
(g)
(max mm)
(max mm)
(max mm)
(max mm)
mAh [gram]
ndx
ndx
(mAh)
AAA
750
1.2
12
10.5
44.5
N/A
N/A
62.50
1.35
84.31
AA
1850
1.2
27
14.5
50.5
N/A
N/A
68.52
1.11
75.96
C
2200
1.2
60
26.2
50
N/A
N/A
36.67
0.61
22.27
D
2200
1.2
73
34.2
61.5
N/A
N/A
30.14
0.57
17.25
ESC – Electronic Speed Controls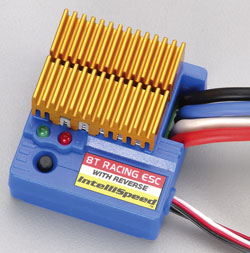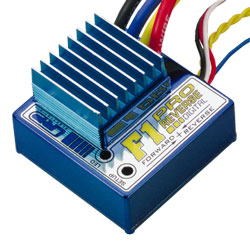 The electronic speed control has revolutionized the R/C car industry. They provide lightning fast response to radio control commands. In some cases they can even charge the battery during a run while braking. They also have their limitations. There is always a limit to the amount of current that will flow through an electronic speed control. This makes using just one speed control on a dual motor R/C a poor choice. Some of the higher end speed controls will work with a Twin but they do not provide enough power for two motors. After all they were designed for single motors.
One alternative that works very well is to use the ESC just as it was designed, that is, one ESC for each motor. Yes, in today's miniature electronics world it is easy to fit two electronic speed controls in an R/C stadium truck. This works well with the RC10-Twin. Another alternative is the newer speed controls designed for the large Monster Trucks. In this case you will have to use two batteries. I have covered batteries and their configuration in another section.
Manual Speed Controls: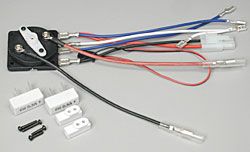 For the RC10-Twin, a manual speed control, usually looked down upon as inferior for single motor applications, can be a very good choice especially if you are playing around with different voltage batteries. For instance if you were to build a battery pack of 10 sub-c cells the voltage would be 12 volts. This could be a good voltage for some configurations of RC10-Twin dual motors.
Most electronic speed controls do not and can not handle 12 volts but the manual controls do. In the most extreme event you would need to add another resistor or purchase a more powerful one. (they are available)
Some of the mechanical speed controls have as many as a dozen clicks forward and half a dozen in reverse. A little ingenuity to create a good linkage with a fast servo and you have a way to let even the most power hungry pair of motors get all the juice they need from the battery. This is a more temperamental solution to controlling the dual motors of a RC10-Twin but it can also be very rewarding.
Another reason to be RC10-Twin'ing. We get all the best experiments. Isn't that why we do this sport?
Tires, Wheels and hole shots!

Another tremendous advantage held by a RC10-Twin is the advantage of increased traction on the rear wheels without sacrificing steering traction on the front end. The RC10-Twin has incredible rear traction.
It is easy to take advantage of this phenomenon. We can ad larger tires such as Proline's "Masher 2000 Monster Truck" tires. These tires are a whopping 4.9 inches in outer diameter. They are a split-V slotted tread design with a relatively soft rubber compound that provide excellent traction. These tires are large but still carry the foam insert and provide an excellent platform for the RC10-Twin dual motors.
When you get the additional power to the ground by improved traction, Watch OUT! It is going to be lots of fun at blistering speed following a trenching hole shot! Go ahead, make the calculations for the jump into hyperspace!
| | |
| --- | --- |
| Name | |
| Title | |
| Company | |
| Address | |
| E-mail | |
| Phone | |
This page has been viewed
times