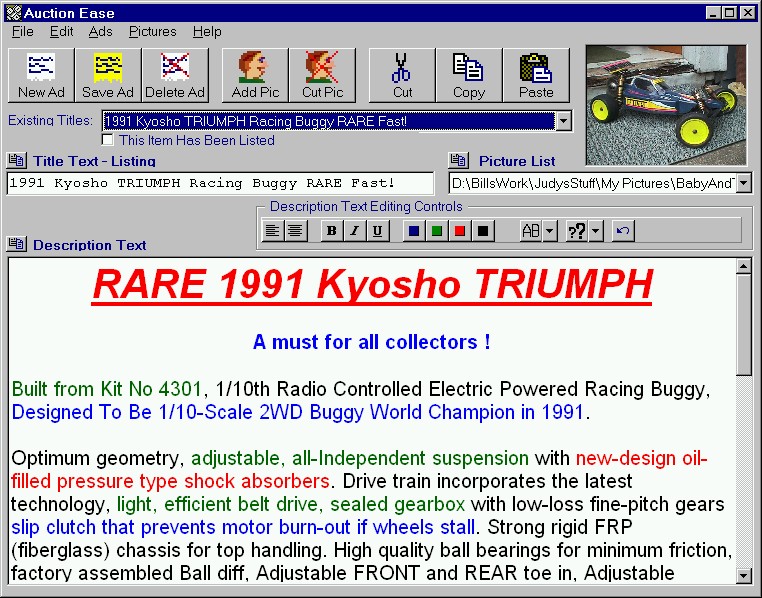 Fill your auctions with Pizzazz!!!!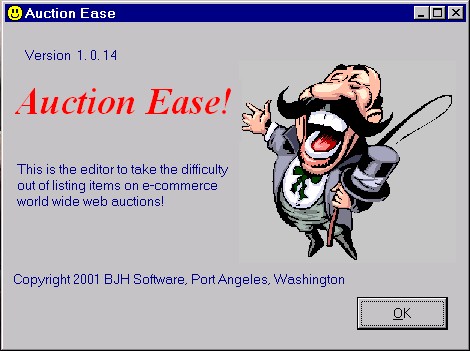 Ebay (and others) Auctions just got a lot easier.
Auction Ease's main purpose is to alleviate problems with needing to be online to list items on e-commerce auction web sites. If a connection problem occurs during the creation of an ad listing within the web page then typed information is lost and unrecoverable. If multiple items will need to be listed then timing is an issue as most sites choose the auction ending time in correlation with the listed time.
Since creating a listing involves typing in a web page with limited editing it is thus time consuming. Trying to list multiple items can increase the possibility of lost data due to connection problems as well as limit the number of ad listings that will be ending at a specific time.
Auction Ease allows the title, description and pictures to be gathered together and stored locally at the operators convenience. Create the ad listing with description and associate the location of the pictures. Auction Ease also allows formatting for font face, color, position and size then converts the formatting to HTML when you copy to the clipboard to paste into your web auction form. This information is stored in the Auction Ease program ready for instant retrieval at any time.


Key Benefits
| | |
| --- | --- |
| | Work and create listings at your own pace. |
| | Don't lose work you have done on auctions and listing descriptions. |
| | List items quickly and timely |
| | |
| --- | --- |
| Name | |
| Title | |
| Company | |
| Address | |
| E-mail | |
| Phone | |